SKOR NEWS
March 1, 2021 08:40
KEEP CONNECTED AND ENGAGED WITH OUR PEOPLE DURING WFH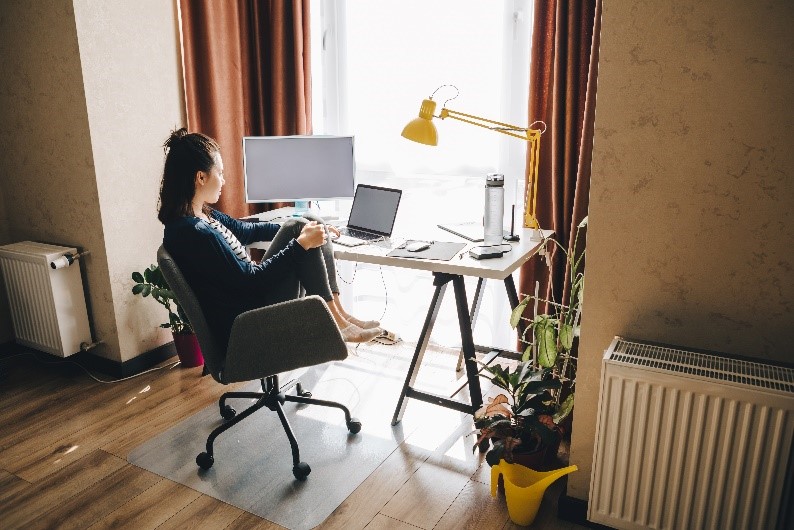 The coronavirus has forced us to rethink the way we work. Technology plays a huge role in that transformation.
For the first time for many, we have witnessed "nonessential" businesses close their doors, state governments issuing orders to stay inside / stay at home, and people preparing for a changing work environment - WFH.
Yet, while this disruption is certainly hard on many businesses, it will be the way these companies use technology that will make the difference between surviving - or even growing - in this difficult time.
When employees suddenly start working away from their regular setting, they are bound to feel a little lost and unmotivated. The working style of a regular 9 to 5 worker is quite different from someone who has always worked remotely. And this sudden transition can massively hamper the internal communication of the organization. The scarier part is that nobody knows how long this arrangement has to last.
To keep the workflows moving, create a virtual office for employees. Invest in the best video conferencing and collaboration tools. Create a forum for employees to share personal as well as professional updates. Try to assign collaborative tasks weekly, encouraging team members to work together and stay connected.
Further, to keep up their morale and boost their moods, you can create virtual team activities like online multiplayer games, quizzes. Or you can even encourage them to learn new things and share them with their colleagues.
Some organizations, like Gitlab, have adopted a virtual coffee break. These are video calls where employees connect virtually to take breaks, socialize, and have their water cooler conversations. These conversations seem effective in preventing potential burnout and isolation.
At Steyer Content, the organization has a happy hour every Thursday. The CEO uses Slack to hold informal contests, to celebrate birthdays and asks employees to post photos of their pets, children and more. The online exchanges are quite popular with people talking about the books they are reading, debates over the merits of fonts, etc. employees are trying to have a virtual karaoke party. Creating a sense of community helps attract strong talent and has a competitive advantage.
While the employees are relieved from the stress of a daily commute, it can be a nightmare for managers to manage this situation. But, they need not have to be.
Discipline is a prime factor to make work-from-home effective. There will be a lot of distractions in their homes and work may suffer.
The key to managing remote teams successfully is a meaningful goal-setting. Set clear deliverables and specific metrics that will enable you to track outcomes and measure results effectively. Communication becomes all the more important when teams are fragmented. Conduct virtual meetings from time to time to take updates and ensure that things are on track. Make use of instant messaging like Skype and Slack to always stay on the loop. Also, schedule some regular time with employees for "non-work" discussions by using SKOR Platform.
Keep them engaged with Recognition
Recognition in the workplace is quintessential for the overall success of the organization. When you acknowledge your employees for their outstanding work on time, they feel rejoiced for their contributions. It fuels their zeal to do better and earn appreciation from their managers and peers.
As the entire world lies crippled with a viral pandemic forcing everyone to stay in self-isolation, delivering employee recognition has become a matter of concern for HR executives worldwide.
Engage with fun - Engaged yang menyenangkan
Conduct periodic surveys to check with employees about what employees are thinking, feeling and doing. What motivates them? What virtual ways to connect do they enjoy most? What do they feel about this culture change around work? What changes would they have to cope with? How do they think it will change how they feel about their relationship with the organization? How would they want to be rewarded in these remote scenarios?
Understanding what your people are going through will give you a much clearer idea about how you should deal with the situation. Also, in each piece of work that needs to be done, you can add elements of fun through gamification to make work more enjoyable. 70% of Forbes Global 2000 companies will use gamification to boost engagement, retention and revenues.
Bluewolf used the gamification technology and created a #GoingSocial program through various initiatives like an employee 'Pack Profiles' giving rewards and points for external/internal collaboration, where employees could earn points of 50 or more, by publishing a blog post on the official company's blog and others.
Encourage Learning
It's a great time for employees to learn what they have always wanted to and a great time for managers to facilitate that. Many companies can easily use the e-learning platform available and employees will be able to learn new skills and upskill their existing skills in the extra hours that they are getting every day due to the current situation of working from home. You can earn points when you achieve a high score during the post test.
The entire world has been hit by a pandemic that has no cure yet, and the only proven prevention is maintaining social distance. Adopting work-from-home practices is the most viable and responsible way to deal with this situation. It is the only way of sustaining your business in a time of global crisis like this one. Thanks to technology, working-from-home can now be remarkably smooth and productive.
It is not only the role of the Top management, HR, the leaders or managers but also of the employees to make these measures a success and emerge through this as stronger than before.
Sources : Article by Shruthi Bopaiah
---