Mengapa Anda memerlukan SKOR untuk melakukan kegiatan engagement dengan pelanggan Anda?
Kami menyediakan Solusi Customer Loyalty
Integrated with embedded rewards management platform
- Great Customer Experience - Gamification - Fun Loyalty
No need to develop a new platform for customer engagement programs which may need high maintenance cost to operate.
You just register your users to SKOR, and your activities will be live within a few weeks. So fast and easy.
See real-time updated reports and use the merchant redemption platform instantly.
We trained our people with standards to build the relationship with the merchant to give added-value for your customers.
Lebih banyak yang terinspirasi dengan SKOR

Keuntungan bagi Partner / Pelanggan
Get real time updates and 2-way communication features.
Personalize and improve relationships with the brand. Tangible recognition of customer loyalty (repeat purchases, advocacy and referrals).
Award points for customizable activities which can be redeemed for discounts or point rewards and redeem in more than 30.000 merchant outlets across Indonesia.
Leverage the in-built health & fitness track-and-reward feature, synchronizable with several health applications.
The challenges are fun and help partner/agent/customers to achieve their goals.
Join various activities including event, product, souvenir with payment gateway embedded in the platform.

Solusi SKOR
Personalised communication channel (e.g. birthday greetings, invitations to exclusive events, and feedback)
Customer loyalty program with continuous and relevant perks and privileges.
Provide health activities, check in events, transparent reporting, build participation, etc. Our experienced managers work closely with you to develop engagement loyalty ideas tailored to your business goals.
Connect with external health devices or simply track activities through google fit or apple health.
Redeem rewards in real-time, through a locally-relevant, easily accessible nationwide merchants partner.
Easy to use self-service content management dashboard to track. Real-time engagement data and analytics.

Keuntungan untuk Organisasi
Instead of using social media to agents/partners/customers, now the control is on organization hand. Reduce reliance on emails. With the gamification features enabled to develop an engaging program and give personalized rewards.
The point rewards/badges/stars are currencies you can use to have fun and encourage action/ pro-activity.
Enhance customer retention and acquisition.
Increase sales and profitability arising from repeat purchases
Increase customer loyalty from recognition programs and improve understanding of customer needs and preferences.
User friendly dashboard for keeping track of the participation rate.
Info Fitur SKOR
Satu aplikasi untuk semua kebutuhan aktivitas Engagement Anda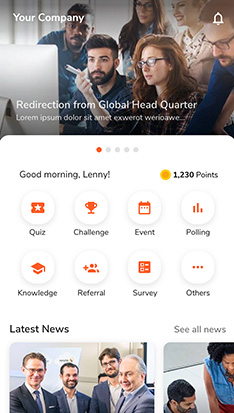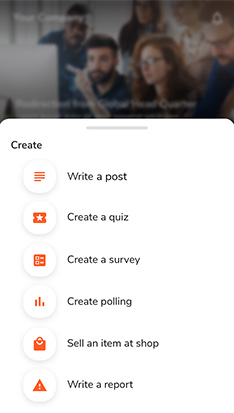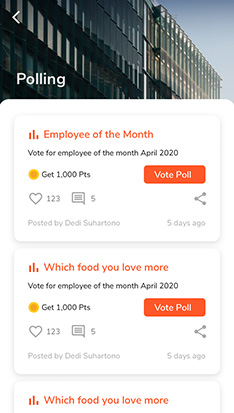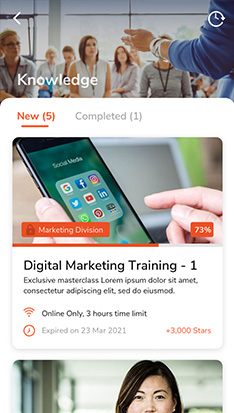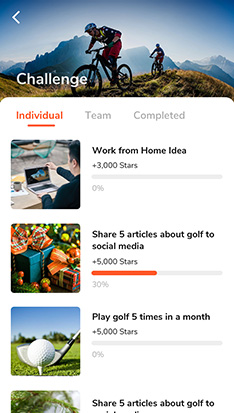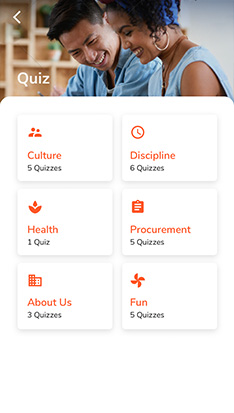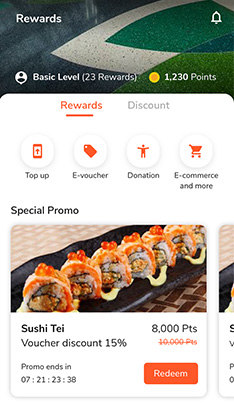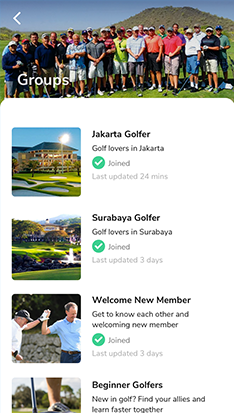 News Feed
The company feels alive now because employee can understand so much more whats going on and who'sthinking what and why.

Read and Write Posts
We can all share our opinions on key issues that affect our company and customers and it helps us all to understand each other better.

Survey and Polling
Get fast feedback through easy-to-create survey and polling, available with targetting option, so you can target specific group..

Knowledge
Measure training session online or off-line. Customized tracking system, scheduled reminder, check in, pre-test, post test, and give feedback.

Challenges
Create and complete challenges to earn rewards. It's a fun way to motivate and engage all employees, especially in team challenge.

Fun Quizzes
Engage your employee to know more about your company and activities. Create quizzes and reward those who get the high scores.

Rewards
Collect stars and badges and get your level up. Also, earn points to redeem in more than 30.000 merchant outlets across Indonesia.

Group - Forum members
Real Time 2-Way Communications via thread group based on interest. Customized content can also be seeded through the apps. User pick based on their interest and topic managed by the Admin Organization.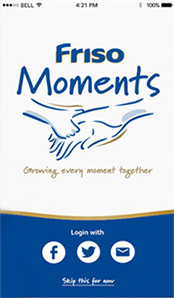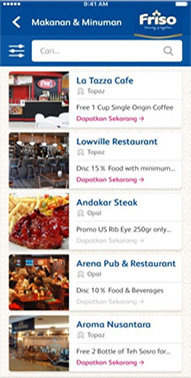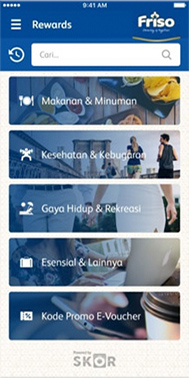 Customer Engagement Sample
Rewards Made Easy.
Just connect with our Rewards API
Easily connect and integrate your existing platform to our API for all our incentive needs. Point or discount rewards are available to redeem in more than 30.000 merchant outlets across Indonesia.
The point system is completely flexible and controlled by whatever budget the company wants to allocate. SKOR will manage the rewards. Hassle free from maintaining the benfit offers from merchants.
We will help your team to set up and your it will be good to go within 7 days.
4 Langkah untuk Memulai SKOR
1

Cukup daftarkan jumlah karyawan Anda, klik disini

2

Pilih preferensi Anda (Fitur dasar gratis atau premium)

3

Jika Anda memutuskan untuk menggunakan fitur premium, silakan pilih fitur yang Anda minati seperti berita, acara, chatbot, kuis, survei, dan banyak lagi. Kami membantu merancang sistem yang paling cocok untuk Anda.

4

Pilih hadiah yang dipersonalisasi. Hadiah diskon dan hadiah Poin dalam banyak kategori seperti makanan, gaya hidup, kesehatan dan banyak lagi.
Layanan yang sepenuhnya dihosting dan dapat diskalakan, tidak perlu mengatur dan memelihara infrastruktur yang mahal. Konsol manajemen konten layanan mandiri yang mudah digunakan. Kami akan selalu memperbarui fitur terbaru dengan teknologi yang terbaru.
Daftar Sekarang
Bergabunglah dengan mereka yang sudah menggunakan SKOR
Tunjukkan bagaimana SKOR membantu Anda
Cobalah dan lihat sendiri bagaimana SKOR dapat memberikan keuntungan bagi tim Anda. Let's meet up!
Jadwalkan demo