SKOR NEWS
March 1, 2021 00:00
FIT–AT–HOME saat WFH (Work From Home) with SKOR Apps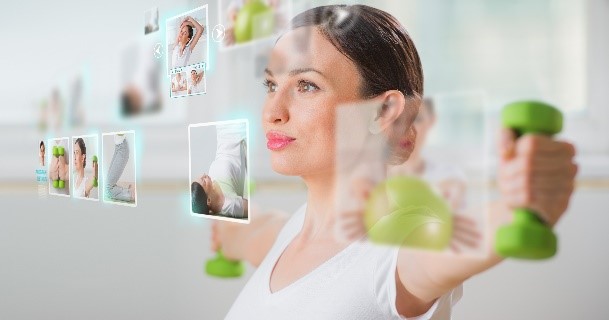 Sometimes many people do not realize the importance of sports as a long-term investment. So if we dare to invest in others, we must also invest in ourselves by taking care of our health. How can we enjoy the results of our efforts if we are not healthy? Health is the best investment. The key is we have to do it regularly, and later if we have seen the results, we will be self-satisfaction.
During the pandemic Covid-19, we are reminded to take care of our health. During this time, we are busy with office routines, waking up, going to the office, going home at night, gathering family, and resting. So it continues as a relentless routine. We forget that our bodies also need exercise.
SKOR is an application that proactively and efficiently manages engagement activities to increase participation by delivering a positive and enjoyable experience so as to motivate to stay active as well as active in sports activities.
Now there are many companies that apply work-life balance with well-being programs and activities by giving appreciation to employees who want to implement healthy living. Employees can get points rewards as a form of appreciation that later this point can be accessed online and offline at more than 30,000 outlets throughout Indonesia. It's exciting, isn't it!
Every 300 steps are appreciated 1 point. One point is equal to 5 IDR. App users can connect SKOR App with health devices such as Fitbit, runkeeper, strava, Google Fit, or Apple health to track health activities.
During the Covid-19 Virus Pandemic, the World Health Organization (WHO) also recommends that we exercise for at least 30 minutes and also get enough sunlight, ranging from 15 to 20 minutes.
There are many simple things that can be done by exercising at home, for example:
1. Walking
includes simple activities that have many benefits. Walking regularly for at least 30 minutes every day can make your body healthier. Sightseeing doesn't have to be outdoors. You can also take a stroll in the corridor or yard.
2. Jumping Jack
Another sport that you can practice at home is jumping jack. Besides being easy and practical, jumping jack movement is a great cardio workout for warm-ups.
3. Push Up
Push up is one of those sports that you can do at home without the help of tools.
4. Leg Lift
Leg lifts can also be done at home. This movement is useful for strengthening the muscles of the legs. You can also combine leg lifts with other moves, such as push-ups or sit-ups.
5. Sit Up
One of the highly recommended sports is sit-ups. Sit-up movements are beneficial for strengthening the abdominal muscles. This method is very effective in tightening your abdominal muscles that are still sagging.
6. Jogging
Who says jogging should be done on the street or in the park? You can also do jogging at home. In fact, you can also do jogging on the spot while watching TV or listening to music.
7. Squat
Squat movements are useful for strengthening the legs and back. You can practice squats by standing and sitting on a chair. Perform these movements over and over again.
8. Weight Lifting
Weight lifting doesn't have to be done in the gym using dumbbells and barbells. You can also make use of basic equipment that can be obtained around the house, such as water-filled timba or unused bottles.
9. Dancing
Dancing is the right choice for both exercise and entertainment. Besides being able to raise the mood, dancing is also useful for increasing the body's metabolism.
10. Going up and downstairs
Even though the movements are very simple, the benefits of this sport are tremendous. If you do this movement to its full potential, going up and downstairs is useful for strengthening the muscles and bones of the legs.
So, those were some tips on the types of exercise you can do at home. Basically, there is no need to have expensive equipment for exercise. You can stay fit and healthy while enjoying the rewards at the same time.
#FightCovid19 #FitSelalu #IngatSehat #SKORHealth #SKOREngagementApp
---